Good Morning
Equities broke out of a downtrending channel to the downside last week in evidence of mounting fear about the economy. The FOMC was forced to hike rates by 75 basis points in what some would call a surprise move. Others, however, would say the FOMC is still behind the curve and that at least one more if not two more 75 basis point hikes were needed. Regardless of the pace, the takeaway for the market is that inflation is still out of control and aggressive rate hikes are making the cost of business more expensive. In this scenario, economic activity can be expected to contract and there is evidence of that already. The Index of Leading Indicators fell for the second month by -0.4% suggesting an economic recession is already in play.

This week will be a hurdle for the market because of how little new information is set to be released. On the economic front, there are only two data points due out and both are from the housing sector. On the earnings front, there are only a handful of confirmed reports and very few from companies other than home builders.
Featured: $5 a Share or Less... (ad)

Stocks
Recession or not, Dividend Kings have a proven track record of success that includes over 50 years of consecutive distribution increases. This tells us management has the foresight to run their companies profitably in both good times and bad. The stocks on our list today are not only Dividend Kings but also Consumer Staples, the sector we most want to be in during an economic downturn.
Read the Full Story >>
From Our Partners
Searching for the next Microcap stocks with disruptive potential? These companies will release their quarterly earnings very soon... And we have found 5 microcap stocks that could see a spike in share price.
Click here to get the names of all 5 stocks
Tech
Asian markets were mostly lower Monday in cautious trading, while the price of bitcoin remained near $20,000. Shares fell in most Asian markets but rose in Hong Kong and India as worries over inflation and risks of a global recession from central bank efforts to bring it under contro...
Read the Full Story >>
Tech
Asian markets are mostly lower in cautious trading ahead of a federal holiday in the U.S. Worries over inflation and risks of a global recession from central bank efforts to bring it under control appeared to outweigh Wall Street's positive close on Friday
Read the Full Story >>
Tech
European benchmarks were higher Monday after most Asian markets retreated, while the price of bitcoin hovered near $20,000. U.S. futures advanced and oil prices fell back early Monday. The price of the world's most popular cryptocurrency remained near the psychologica...
Read the Full Story >>
Politics
At a gas station near the Cologne, Germany, airport, Bernd Mueller watches the digits quickly climb on the pump: 22 euros ($23), 23 euros, 24 euros. The numbers showing how much gasoline he's getting rise, too. But much more slowly. Painfully slowly. "I'm getting rid of my car this Oc...
Read the Full Story >>
From Our Partners
Three terrifying forces are converging to threaten your wealth. Force #1: The destruction of decent INTEREST you earn on your savings. Force #2: The rapid erosion of your PRINCIPAL through inflation and Force #3: The gut punch to your PORTFOLIO in the crashing stock market. I've prepared solutions to all these problems and more in my 7-step plan for 2022.
Click here for my 7-step plan for 2022.
Politics
Unions and train companies in Britain are set to hold last-minute talks Monday amid fading hopes of averting the country's biggest rail strikes for decades. Up to 40,000 cleaners, signalers, maintenance workers and station staff are due to walk out for three days this week, on Tuesday...
Read the Full Story >>
Markets
eBay (NASDAQ:  EBAY) is an American multinational e-commerce company based in San Jose, California. eBay's business model is not entirely insulated from the shocks of the broader economic environment,
Read the Full Story >>
Markets
Honda (NYSE: HMC) recently teamed up with Sony and is expected to roll out a series of electric vehicles in the coming year. Although the company is late to the party, Honda's technological prowess and experience mean that the car-maker
Read the Full Story >>
Tech
Augmented reality smart glass maker Vuzix Corporation (NASDAQ: VUZI) stock has staged a rally off its lows of $3.88 but is starting to fall again. The Company had a challenging fiscal Q1 2022 as the macro problems from inflation, COVID-19 effects, supply chain and Russian conflict all indirectly led...
Read the Full Story >>
Markets
Palo Alto Networks (NASDAQ: PANW) is a leader in the cybersecurity industry. It has significantly grown its revenues faster and higher than the industry's 5-year average. The average revenue growth for companies in the cybersecurity industry is 10% per year, while PANW grows at a rate of 25....
Read the Full Story >>
The Early Bird Stock Of The Day
Monday: Stock Being Downgraded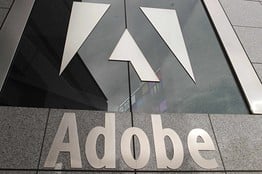 Adobe Inc. operates as a diversified software company worldwide. It operates through three segments: Digital Media, Digital Experience, and Publishing and Advertising. The Digital Media segment offers products, services, and solutions that enable individuals, teams, and enterprises to create, publish, and promote content; and Document Cloud, a unified cloud-based document services platform. Its flagship product is Creative Cloud, a subscription service that allows members to access its creative products. This segment serves content creators, workers, marketers, educators, enthusiasts, communicators, and consumers. The Digital Experience segment provides an integrated platform and set of applications and services that enable brands and businesses to create, manage, execute, measure, monetize, and optimize customer experiences from analytics to commerce. This segment serves marketers, advertisers, agencies, publishers, merchandisers, merchants, web analysts, data scientists, developers, and executives across the C-suite. The Publishing and Advertising segment offers products and services, such as e-learning solutions, technical document publishing, web conferencing, document and forms platform, web application development, and high-end printing, as well as Advertising Cloud offerings. The company offers its products and services directly to enterprise customers through its sales force and local field offices, as well as to end users through app stores and through its website at adobe.com. It also distributes products and services through a network of distributors, value-added resellers, systems integrators, software vendors and developers, retailers, and original equipment manufacturers. The company was formerly known as Adobe Systems Incorporated and changed its name to Adobe Inc. in October 2018. Adobe Inc. was founded in 1982 and is headquartered in San Jose, California.
View Today's Stock Pick